APPLICATIONS HAVE CLOSED
The Handbook supports review authors, Cochrane Review Group editors and Cochrane trainers. It sets the standard expected of Cochrane Reviews. The Handbook is also used widely beyond Cochrane, setting out general methodological principles for systematic reviews undertaken in diverse areas of application. This is an opportunity for mid-career researchers to contribute their skills at an influential level within Cochrane, and the posts will provide an opportunity for further career development.
We are looking for people with a proven track record and expertise on systematic review methods with experience across a range of methods currently covered by the Cochrane Handbook. The Editorial team (Senior and Associate) will ensure the credibility of scientific content, the usability of the guidance, and the consistency and quality of writing across chapters. In collaboration with other experts and stakeholders (including Methods Group Convenors and the Cochrane Scientific Committee), the editorial team will decide on new content and guidance, and ensure the timeliness of updates. Key tasks are:
assist in the planning and development of Handbook structure and content;
take leadership and coordinate the production of an identified subsection of the Handbook;
identify lead chapter authors/editors for assigned chapters and provide ongoing support for chapter development;
provide feedback on content queries and draft chapters; ensure internal consistency of content across the Handbook;
identify suitable peer reviewers for individual chapters; review peer review feedback and liaise with chapter authors and editors on revisions to content;
make decisions on suitability of chapter manuscripts for publication;
support the accessibility and relevance of the Handbook to its target audiences;
and work in co-operation with the rest of the editorial team and other stakeholders to ensure timely updates.
Scientific Editors may also contribute actively to the development of material for a chapter, and hence be listed as a chapter author or editor.  
Role criteria
Associate Scientific Editors are expected to have:
post-doctoral research experience (typically a minimum of three years);
a relevant and recognizable body of methods-related research output, including publications; co-authored at least three systematic reviews on different topics;
high familiarity with existing Cochrane methods and approaches;
experience of peer review and, ideally, some editing experience; and commitment and capacity to deliver the tasks listed above within reasonable timeframes.
The planned Editorial Team structure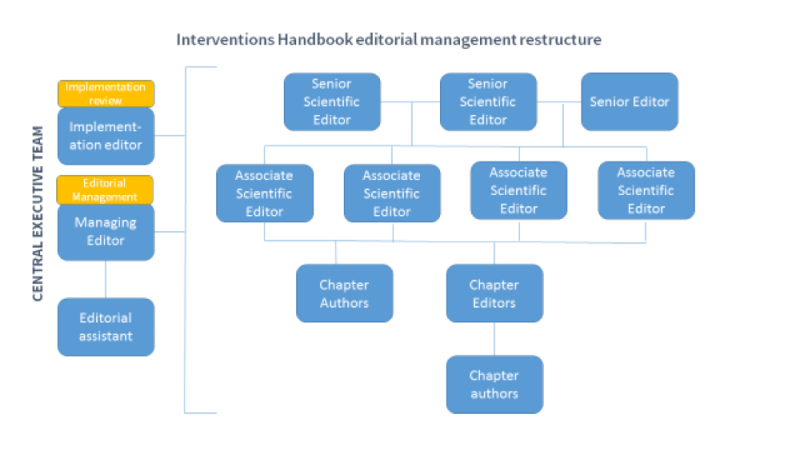 The Scientific Editors will receive support from a Managing Editor and Editorial Assistant, who will take responsibility for:
style and formatting checks;
copy editing;
proofreading;
organizing publication online and in hard copy, including publication contracts;
tracking and workflow management of each chapter;
managing copyright, including reproduction and translation;
setting and managing communication around production deadlines;
managing authorship issues;
coordinating meetings (including for Chapter teams, the Scientific Editors and broader meetings);
ensure distribution and access.
An additional member of the editorial team, implementation editor will ensure Handbook content is implementable and supports application and training needs of authors and editors.
We are unable to provide financial remuneration for these positions, although we would cover any expenses incurred to attend face to face meetings, such as travel and accommodation, based on prior agreement.
APPLY HERE
Please submit a short personal statement providing an overview of your suitability for this position and your reasons for applying (maximum 300 words); a short CV including relevant qualifications, career experience and publication record. Your application should also include contact details, institutional affiliation and Cochrane affiliations.
The deadline for appplications is 10th March 2017 (midnight GMT). Please note that, following a successful application, Associate Scientific Editors will be required to complete a conflict of interest disclosure. Cochrane's Commercial Sponsorship Policy is available here.