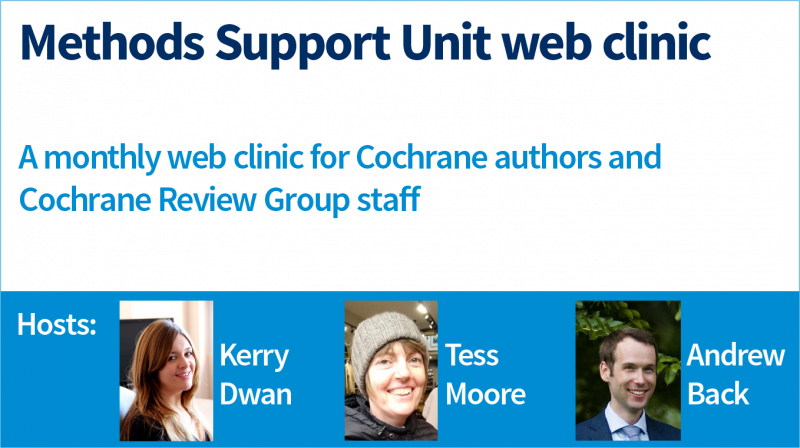 Add the web clinic to your calendar today by copying the details below!
Each month, Cochrane Review authors and Cochrane Review Group staff are invited to join a 60 minute web clinic hosted by Cochrane's Methods Support Unit, based within the Editorial and Methods Department, to discuss methodological questions during the production of Cochrane Protocols and Reviews. 
These web clinics are organised by Kerry Dwan (Methods Support Unit Lead and Statistical Editor) and Tess Moore (Systematic Review Methodology Editor). Depending on the queries submitted, representatives from Cochrane's Methods Group may be invited. 
Please note: The sessions are recorded and shared via our website for those who can't attend, meaning their contents will be stored in the public domain.
If you would like to submit a question to the web clinic, please use the webform:
Please contact support@cochrane.org if you have any questions about the scheduling.
Other upcoming web clinics:
Thursday 9 December 2021 09:00-10:00 (GMT) - [check the time in your time zone]
Thursday 13 January 2022 16:00-17:00 (GMT) - [check the time in your time zone]
Previous web clinics
November 2021: Recordings will be posted soon
October 2021: No questions submitted - cancelled
September 2021
August: Summer break - no meeting
July 2021
June 2021
May 2021
April 2021: No questions submitted - cancelled
March 2021
February 2021
November 2020
October 2020: No questions submitted - cancelled
September 2020
August 2020: No questions submitted - cancelled

July 2020
June 2020
May 2020
April 2020: No questions submitted - cancelled
March 2020
February 2020
January 2020
December 2019