The Cochrane Rapid Reviews Methods Group (RRMG) has developed provisional rapid review methods recommendations for Cochrane and others in the wider knowledge synthesis community to use. These are based, in large part, on an evidence-informed survey of representatives from 20 Cochrane entities, who were asked to rate, rank and/or order rapid review methods across stages of review conduct. The survey was developed with input from a team of methodologists with experience in conducting both systematic reviews and rapid reviews, including an expert advisory committee. Recommendations are based on items for which there was a high (endorsed by ≥70% of respondents) or moderate (endorsed by ≥50-69% of respondents) level of agreement. Items that ranked highest or scored highest in the absence of high or moderate agreement have also been recommended.
Available at the link below:
Cochrane Rapid Reviews - Interim Methods Guidance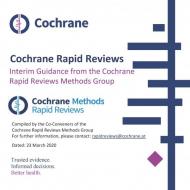 We encourage the use of this interim guidance and welcome your feedback. Please also reach out to us if you require more information. Contact us at: rapidreviews@cochrane.at 
Cite as: Garritty C, Gartlehner G, Kamel C, King VJ, Nussbaumer-Streit B, Stevens A, Hamel C, Affengruber L. Cochrane Rapid Reviews. Interim Guidance from the Cochrane Rapid Reviews Methods Group. March 2020.