It was with great sorrow that we received the sad news of the passing of Doug Altman on Sunday 3rd of June. The Cochrane Bias Methods Group has lost its senior co-convenor. Medical research and statistics have lost one of their greatest. We have lost a mentor and a friend.
Doug leaves behind an incredible legacy to medical research and statistics. Over the past five decades, no one fought for the quality of clinical research as hard as him. Doug's contributions will have ongoing influence for many years to come.
Doug was a beacon of inspiration. When he spoke, everyone listened. Yet he was kind and generous. He could resolve any scientific discussion with his thoughtful and wise remarks. At the same time he could brighten the mood of any meeting with his funny comments. Thank you Doug, for all you gave.
Our warm condolences to his family.
Asbjørn Hróbjartsson, Isabelle Boutron, Matthew Page, and Camilla Hansen
Convenors and coordinator of the Cochrane Bias Methods Group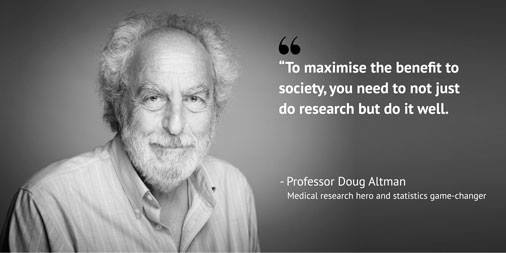 (Source: https://www.ndorms.ox.ac.uk/news/thank-you-doug-altman)