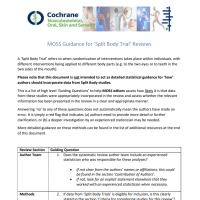 Posted on 29 July 2020.
Cochrane Reviews that include split body trials pose specific challenges for evidence synthesis. Here, Roses Parker (@Roses_Parker), Network Support Fellow for the Cochrane Musculoskeletal, Oral, Skin and Sensory Network, highlights recently developed guidance for Cochrane editors on what to look for in Cochrane Reviews that include these study designs. 
Cochrane Musculoskeletal, Oral, Skin and Sensory (MOSS) is a diverse network of Cochrane Review Groups and at times it can be hard to see what the Groups have in common. One key similarity across the Groups is that their Reviews contain split body trials and therefore, they face the same challenges in synthesising evidence from these studies. 
Split body trials are studies where randomisation occurs within the individual. This could be an intervention applied to an individual's right eye and a placebo applied to the same individual's left eye. Another example is interventions applied to different teeth or different sides of the same individual's mouth. 
In November 2019, we held a MOSS web-clinic in which Tanya Walsh and Helen Worthington, Editors in the Cochrane Oral Health Group, shared the challenges of split body trials and how to handle them appropriately in Cochrane Reviews. Stemming from this we created a guidance document to support MOSS editors in assessing whether these types of studies have been used correctly. 
Personally, I had not come across split body trials before but the guidance is designed to support people like me. It is not trying to provide a "how to", that role needs to be fulfilled by a statistician, rather it helps editors to identify red-flags and work out if there is bias in the review as a result of mishandling these types of studies. 
Here are some key points from the guidance to highlight:
It is important to make sure that the authors have considered whether the intervention could be carried across from one site and contaminate the control site. Some split body trials may need to be removed from the review if there is risk of this.
Some studies use a mixture of split body and parallel group assignment so it is important to ensure authors have a clear plan for analysing these as well. 
It's not a long document with just 17 points to consider, each formatted as questions and with an example provided. The questions are ordered to match the structure of a Cochrane Review making it easier to find the information you need. It also has a list of helpful resources at the end including a link to the Cochrane Handbook of Systematic Reviews of Interventions, relevant Cochrane Interactive Training Modules, three methods papers, and an example Cochrane Review. 
I am proud that Cochrane MOSS has produced this guidance as its creation shows how Networks can facilitate collaboration between Groups and improve the quality of systematic reviews across Cochrane, even in very diverse Networks like MOSS. To read more about this project and access the guidance follow this link.