Posted on 24 November 2021 by Ella Flemyng (Methods Implementation Manager)
We are celebrating the achievements of Cochrane's Methods Groups from the last year. Today we are putting Screening and Diagnostics Methods Group in the spotlight. 
The aim of the Screening and Diagnostic Tests Methods Group is to implement the publication of systematic reviews of diagnostic test accuracy within Cochrane, as well as produce the Cochrane Handbook for reviews of diagnostic test accuracy, develop tutorials for use in RevMan, contribute to the development of RevMan software, work with Cochrane Review Groups to develop the editorial process of these reviews, and collaborate with all Cochrane entities as necessary to ensure the preparation and publication of good quality reviews of test accuracy in the Cochrane Library.
To find out more about what they've been up to over the last year, click on the below: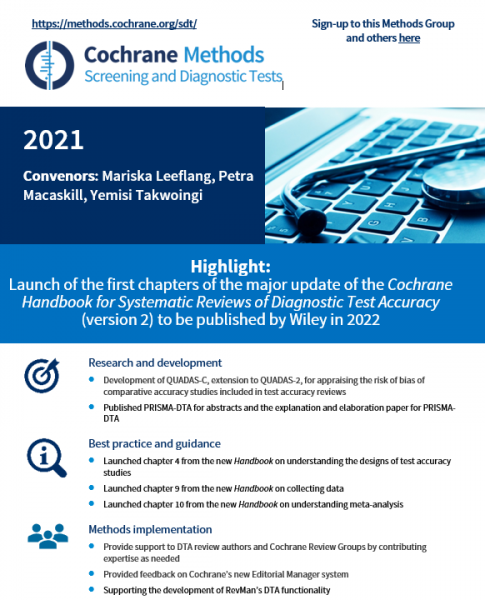 Interested in learning more about this Methods Group, or any of the other Methods Group? Join Cochrane's Methods Network and sign up to receive the Methods Network newsletter.
Explore all methods-related updates from the last year in the 2021 Annual Methods Group and browse outputs from across all Methods Groups by clicking on the different areas in the below box.