Welcome to the third annual report for Cochrane Methods with updates on methodological developments in Cochrane over the past year, including important work of our Methods Groups' members and others. Major projects this year include… 
The Cochrane Handbook for Systematic Reviews of Intervention is now available!
In October 2019, we launched the brand-new edition of the Cochrane Handbook for Systematic Reviews of Interventions (Version 6). After substantive updates since the first published edition in 2008, Version 6 is freely available online via the Cochrane website and in printed book form, which can be purchased from the Wiley website. We would not have been able to produce this Handbook without the expertise and commitment of individuals from our Methods Groups and methods community. We would like to thank the team of over one hundred authors, editors and chapter peer reviewers for completing this major piece of work. We especially want to thank the central Handbook editorial team, Senior Scientific Editors Julian Higgins and James Thomas, Associate Scientific Editors Jackie Chandler, Miranda Cumpston, Tianjing Li, Matt Page, Vivian Welch, and Laura Mellor, our Editorial Assistant. See this Cochrane Methods News post for more details and links to other resources and announcements that support the Handbook launch. 
Implementation of Risk of Bias 2
A priority for Cochrane in 2019 has been getting Cochrane Review Groups (CRGs) and the community ready for the roll-out of the new Risk of Bias 2 (RoB 2) tool. A pilot is underway with a cohort of review teams to assess the guidance, tools, training and support we've been developing to facilitate RoB 2 use, which also goes hand-in-hand with migrating to RevMan Web (RoB 2 developments are only being made to RevMan Web). We have also been gaining feedback on our plans from the community through opportunities at regional Symposia, a Strategy Session at the 2019 mid-year Governance Meetings, the Cochrane RoB Methods Training Event (held over three days in Bristol, UK, with 50 attendees from across 33 CRGs, Network editorial teams and Cochrane Trainers), as well as within CRG Network team meetings. We are listening to the feedback and adapting our plans. A key milestone for the roll-out will be publication of the first review in the pilot, which we hope will be in the first half of 2020. 
Other priority methods projects in Cochrane 
Other key developments include:
the launch of guidance for Cochrane living systematic reviews from the Living Evidence Network,
the launch of Cochrane Interactive Learning modules for network meta-analysis,
the development of Cochrane Interactive Learning modules for equity,
development of a proposal for what a Cochrane Rapid Reviews could be, and
development of strategic plans for how Cochrane could include clinical study reports in relevant Reviews.
Two large-scale methods implementation projects funded by the Strategic Methods Fund are now coming to completion. The Prognosis Methods Group have supported the initiation of 23 Prognosis Reviews in Cochrane and developed guidance, tools, training and support for review teams. The Improving Conduct & reporting of Narrative Synthesis of Quantitative data (ICONS-Quant) project completed a Delphi to reach consensus on standards for narrative synthesis, also known as Synthesis Without Meta-Analysis (SWiM), and have developed guidance, tools, training and support for review teams that will be released soon.
Following your feedback, we will be developing the Cochrane Methods website to create a go-to place for the community to get the most up-to-date information on these methods projects. At the 2019 Colloquium, the Editorial Board will be discussing methods priorities for 2020 so watch this space for updates soon! 
Achievements and contributions from the Methods Groups
Our Methods Groups continue to contribute hugely to Cochrane and the community. They are the backbone to the methods infrastructure in Cochrane and we greatly appreciate the expertise and contributions they bring. Full lists of the key achievements, research and implementation projects, training and support activities provided, and publications from each of our 17 Methods Groups can be found via the links.
Proposing changes to Cochrane methods or tools
The Methods Executive and Scientific Committee have developed the process for members of the Cochrane community to propose changes to methods or tools used in Cochrane Reviews. Changes could involve proposals to consider new methods or tools, or alternatively they could be to discontinue out-of-date methods. We encourage the submission of all methodological items from the community to discuss for future implementation in Cochrane, which could be either field-specific or affect the community as a whole. Full details and how to submit proposals can be found here. 
Other key developments
The Methodological Expectations for Cochrane Intervention Reviews (MECIR) Manual has been updated to reflect content in the new Handbook. James Thomas and Ella Flemyng have been welcomed to the author team, joining Julian Higgins, Toby Lasserson, Jackie Chandler, David Tovey and Rachel Churchill. We have also launched guidance for translation teams wishing to translate MECIR.
The Cochrane Handbook for Diagnostic Test Accuracy Reviews editorial team welcomed three new Associate Scientific Editors, Mariska Leeflang, Rob Scholten and Yemisi Takwoingi, and Laura Mellor as Editorial Assistant. They join the Senior Scientific Editors, Jon Deeks and Patrick Bossuyt, and development of the chapters and content is currently underway.   
Methods community
In 2019, we have concentrated efforts on defining the roles and remits of the Methods Executive (see Terms of Reference), Scientific Committee (see Terms of Reference) and others in the methods community, to ensure there is clarity (see below).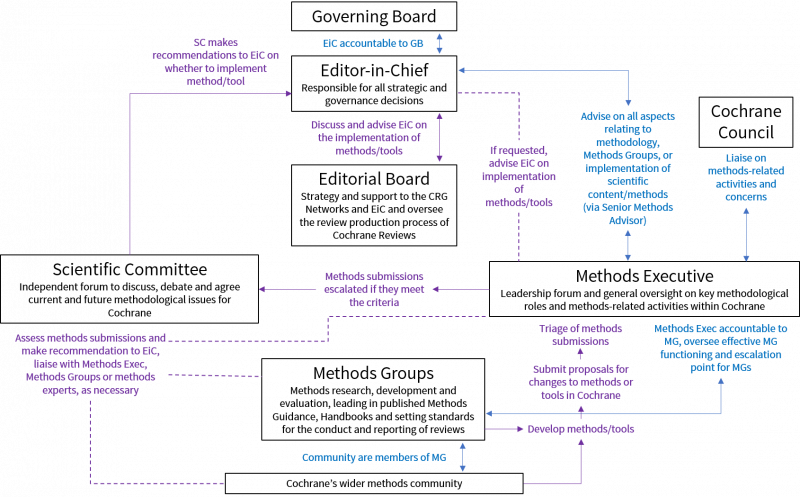 Both the Methods Executive and Scientific Committee are moving to a standard tenure for elected members, with annual elections for new members, to ensure opportunities to contribute in these ways to Cochrane are periodically available for members of our methods community. Application for a methods member on the Cochrane Council will also soon be advertised.
We have interviewed all 17 of the Cochrane Methods Groups to find out about their experiences in leading Methods Groups, which will help us understand how best to develop the methods infrastructure to support the growing needs of the Cochrane community. 
Cochrane Central has also launched a Methods Support Unit, which will support Cochrane CRG Networks in the production of high-quality Reviews. This team is led by Kerry Dwan (Methods Support Unit Lead) and includes Tess Moore (Systematic Review Methodology Editor) and Andrew Anglemyer (Epidemiology Editor) who will be starting in the position soon.
We say goodbye and thanks to the following:
Carol Lefebvre will be stepping down from the Methods Executive at the end of October 2019. Her commitment and contributions to the group has been great and she will be missed. She remains active in the Information Retrieval Methods Group. 
Julian Higgins, Co-Convenor, Comparing Multiple Interventions Methods Group
Toby Lasserson leaves the Senior Methods Editor position in the Editorial and Methods Department to become the Deputy Editor-in-Chief of the Cochrane Library.
Jackie Chandler, Methods Coordinator, Editorial and Methods Department 
Louisa Dunn, Methods Liaison Officer, Editorial and Methods Department
And we welcome:
Tianjing Li has joined the Methods Executive after an open application process and voting from the Methods Groups. A news post on the appointment is here.
Carol Lefebvre is appointed Lead Convenor of the Information Retrieval Methods Group.
Julian Higgins, Co-Convenor, Bias Methods Group
Pia Johansson and Denny John, Co-Convenors, Economic Methods Group
Moni Choudhury, Co-Convenor, Priority Setting Methods Group
Taihra Devji, Coordinator, Patient Reported Outcomes Methods Group
Mariska Leeflang, Rob Scholten and Yemisi Takwoingi, Associate Scientific Editors for the Cochrane Handbook for DTA Reviews
Tess Moore, Systematic Review Methodology Editor in the Methods Support Unit (Editorial and Methods Department)
Andrew Anglemyer, Epidemiology Editor in the Methods Support Unit (Editorial and Methods Department)
Froeks Kamminga, Methods Liaison Officer, Editorial and Methods Department
Ella Flemyng, Methods Implementation Coordinator, Editorial and Methods Department
With respect and best wishes,
Ella Flemyng,
Methods Implementation Coordinator