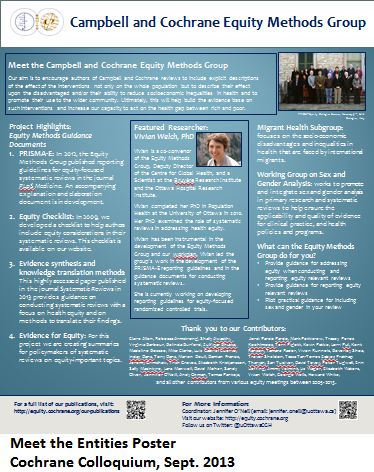 Convenors:
Elizabeth Kristjansson, PhD
Tamara Lotfi, MD, MPH
Lawrence Mbuagbaw, MD, PhD
Kevin Pottie, MD
Gabriel Rada, MD
Ashrita Saran, PhD
Peter Tugwell, MD
Vivian Welch, PhD
Associate Convenors
Andrea Darzi, MD, PhD
Rebecca Glover, PhD
Roses Parker, PhD
Assistant Convenors
Omar Dewidar, MSc 
Joanne Khabsa, MSc
Ammar Saad, MSc
Eve Tomlinson, MSc

Fellows
Miranda Lesperance, PhD Candidate
Olivia Magwood, PhD Candidate
Alison Riddle, PhD Candidate
Shahab Sayfi, Undergraduate student
Coordinator:
Jennifer Petkovic, PhD
-----
The Campbell and Cochrane Equity Methods Group is registered with both the Campbell Collaboration and Cochrane. It was first registered as the Cochrane Health Equity Field and as the Campbell Equity Methods Group on the 27th of June, 2005.
Cochrane Methods Groups base their activities around the six core functions outlined by Cochrane. The Equity Methods Group:
1. Provides Policy Advice
We aim to provide advice to the various entities (including the Steering Group, Collaborative Review Groups, Fields, Methods Groups, and reviewers) regarding equity methods policy. 

We seek to contribute in the production of guidelines and advisory materials such as the Campbell Collaborations guidelines on systematic reviews, and the Cochrane Handbook for Systematic Reviews of Interventions

We are developing an equity chapter for the next major revision of the Cochrane Handbook. This will include recommendations on formulation of the question, collecting data, interpreting evidence across factors such as socio-economic position and gender, and discussing the implications of research findings for clinicians, consumers, and policy-makers.

In 2012 we published an equity extension to the Preferred Reporting Items for Systematic Reviews and Meta-Analyses (PRISMA-E 2012). 
Welch V, Petticrew M, Tugwell P, Moher D, O'Neill J, Waters E, White H, and the PRISMA-Equity Bellagio Group. (2012) PRISMA-Equity 2012 Extension: Reporting Guidelines for Systematic Reviews with a Focus on Health Equity. PLoS Med 9(10): e1001333. doi:10.1371/journal.pmed.1001333
In 2013 we published guidance for health equity evidence synthesis and knowledge translation methods. 
Welch VA, Petticrew M, O'Neill J, Waters E, Armstrong R, Bhutta ZA, Francis D, Perez Koehlmoos T, Kristjansson E, Pantoja T, Tugwell P. Health equity: evidence synthesis and knowledge translation methods . Systematic Reviews. 2013, 2:43. doi:10.1186/2046-4053-2-43.
2. Provides Training and Support
We provide training and review support to systematic review authors interested in including equity considerations in their review. 

We present and facilitate workshops and presentations at national and international conferences, including both Cochrane and Campbell annual meetings.

Some training activities are conducted in cooperation with other methods groups, given overlapping issues such as statistical power and subgroups, qualitative methods, economics, and non-randomized studies that need to be addressed in equity reviews.
3. Conducts Methodological Research
We conduct empirical methods research on what equity data are needed in Campbell and Cochrane reviews and how to apply reviews for evidence-informed equity-oriented policy.  

Examples:

Welch V, Brand K, Kristjansson E, Janet Smylie J, Wells G, and Tugwell P. Systematic reviews need to consider applicability to disadvantaged populations: inter-rater agreement for a health equity plausibility algorithm. BMC Medical Research Methodology. 2012, 12:187 doi:10.1186/1471-2288-12-187
Welch V, Petticrew M, Ueffing E, Benkhalti Jandu M, Brand K, et al. (2012) Does Consideration and Assessment of Effects on Health Equity Affect the Conclusions of Systematic Reviews? A Methodology Study. PLoS ONE 7: e31360. doi:10.1371/journal.pone.0031360. Available: http://dx.plos.org/10.1371/journal.pone.0031360.
Petticrew M, Tugwell P, Kristjansson E, Oliver S, Ueffing E, Welch V. Damned if you do, damned if you don't: subgroup analysis and equity. Journal of Epidemiology and Community Health 2011. Available: http://jech.bmj.com/content/early/2011/06/06/jech.2010.121095.short?rss=1
Anderson LM, Petticrew M, Rehfuess E, Armstrong R, Ueffing E, Baker P, Francis D, Tugwell P. Using logic models to capture complexity in systematic reviews. Research Synthesis Methods 2011 Jun 10.  Available: http://dx.doi.org/10.1002/jrsm.32.

Tugwell P, Petticrew M, Kristjansson E, Welch V, Ueffing E, Waters E, Bonnefoy J, Morgan A, Doohan E, Kelly MP.  Assessing equity in systematic reviews:  realising the recommendations of the Commission on Social Determinants of Health.  BMJ. 2010 Sept 13;341:c4739.

Tugwell P, de Savigny D, Hawker G, Robinson V. Applying clinical epidemiological methods to health equity: the equity effectiveness loop. [Review]. BMJ 332(7537):358-61, 2006.  http://www.bmj.com/cgi/content/full/332/7537/358

For more, please see our publications page
4. Helps Monitor the Quality of Cochrane Reviews
We conduct ongoing surveys of reviews, to examine how effective the reviewers have been at including and conveying equity issues in the reviews. 

Co-Convenor Vivian Welch's PhD thesis focused on assessing how effects on health equity are considered in systematic reviews. 
5. Serves as a Forum for Discussion
Our communication strategy includes a listserv, a website, and printed/electronic newsletters.  Our listserv is used to promote awareness of the Campbell and Cochrane Collaborations to Methods Group members, to update members on Methods activities, and to encourage collaboration and involvement.  We produce newsletters twice yearly, with email updates sent as appropriate.

We hold Open Equity Meetings at the annual Cochrane Colloquia and the annual Campbell Symposia, which are well-attended by both past collaborators and new colleagues.  These meetings facilitate the interaction of members.
6. Ensures interactions within Cochrane 
The coordinator and convenors attend the annual Cochrane Methods Board meeting.

All of our convenors are actively involved in the leadership of the Campbell and 

Cochrane

. Peter Tugwell was the Coordinating Editors Representative on the 

Cochrane 

Steering Group from 2004-2008, and is currently serving as the Co-Chair on the Campbell Methods Group Advisory Committee.  He is also a member of the Campbell Steering Committee. Vivian Welch is Co-Convenor of the Agenda and Priority Setting Methods Group.