Investigators:
Kevin Pottie (NPI), Claire Kendall, Gary Bloch, Vivian Welch, Vicky Stergiopoulos, Ann Anderman, Peter Tugwell and colleagues received funding from the Inner City Health Associates, Employment and Social Development Canada, Canadian Medical Association, Public Health Agency of Canada to develop Canadian evidence based guidelines to improve health of homeless and vulnerably housed persons.
Who are we?
We have established an evidence-based Homeless Health Research Network (HHRN) in collaboration with researchers, clinical and public health practitioners, people with lived experience of homelessness, medical and public health students, and social and health policy makers. We are developing homeless health guidelines for Canada. Homeless health guidelines are a set of evidence-based recommendations on how to best address the needs of homeless and vulnerably housed populations in Canada.
Project Description
Persons living without privacy, security and shelter are at high risk for a number of mental and physical health problems. The life expectancy of men living on the street is 42-52 years of age.  Our research began with over 160 collaborators from across Canada, including 76 persons with lived homeless experience. This stakeholder group has identified the health conditions most in need of guidelines. The preliminary priority issues include finding a house, income support, care with mental illness and addictions, as well as care coordination interventions. Homeless and vulnerably housed persons exist across Canada, in big and small cities.  Our network also identified populations in need of additional research; including the First Nations, Metis and Inuit, youth, women, persons suffering from head injury or intellectual disability, and refugees. Our evidence-based working groups include researchers, practitioners as well as community scholars with lived experience. The next steps will include systematic reviews of interventions for effectiveness and cost effectiveness and GRADE evaluation of the evidence. Community scholars will play an important role throughout the process ensuring relevance and acceptability.
Project Objectives
Objective 1 Conduct Delphi consensus processes to prioritize evidence gaps
Objective 2 Conduct systematic reviews with equity considerations on identified priorities and related interventions for the health of people who are homeless and vulnerably housed 
Objective 3 Produce GRADE evidence based recommendations for the health of homeless and vulnerably housed people consideration acceptability, feasibility and local contexts.
Deliverables
Evidence based clinical guidelines for homeless health (In press, CMAJ)

Paper: Delphi priority setting for homeless health conditions (under review)

Systematic reviews for homeless populations:

Scoping review on qualitative research tools for engaging with vulnerable populations [PDF]

Harm reduction and pharmacotherapeutic interventions for the homeless and vulnerably housed: An empty systematic review

[PDF]

Road Map to Our Project: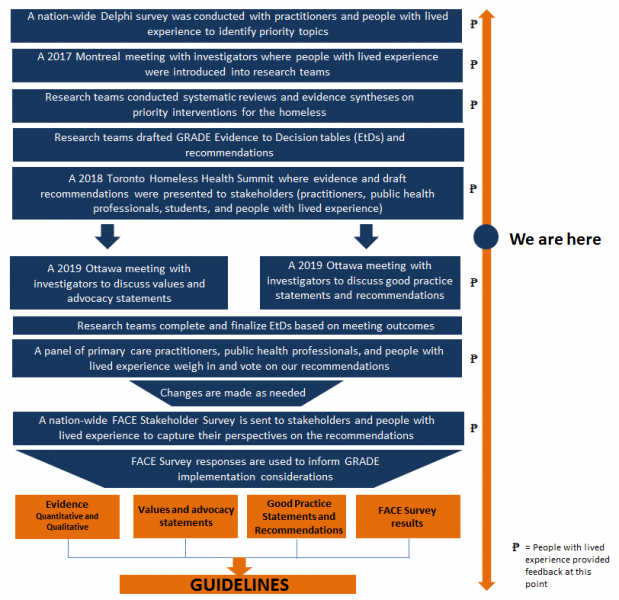 Newsletters:
Homeless Guidelines News: Volume 1, Issue 3, December 2018
Homeless Guidelines News: Volume 1, Issue 2, September 2018
Homeless Guidelines News: Volume 1, Issue 1, April 2018
Le point sur les lignes directrices concernant les sans-abri: Volume 1, numéro 1, avril 2018
PROTOCOL 1:
May 15, 2018: The experiences of homeless and vulnerably housed persons around health and social services. A protocol for a systematic review of qualitative studies. PDF 
PROTOCOL 2:
Campbell protocol:  Pottie et al. A comprehensive review of prioritized interventions to improve the health and wellbeing of persons with lived experience of homelessness. Campbell Systematic Reviews. 2019;15(3):e1048.
PROTOCOL 3: 
July 31, 2018: Harm reduction and pharmacotherapeutic interventions for persons with substance use disorders: A protocol for a systematic review of reviews. PDF
PROTOCOL 4: 
August 10, 2018: Impact of Interventions for Homeless Youth: A Narrative Review using Health, Social, Gender, and Equity Outcomes. PDF